Sports
Report
Gain consumers attention with live up to date sports scores, stats, news and highlights. ClockNine's Sports Report content can help increase customer engagement in your establishment. Entertain consumers with content that is always fresh. Live data streams will pull game stats, scores and news and highlights from an endless list of sporting leagues and events.
This Smart Content™ was designed with customer engagement in mind. Using Sports Report is a great way to add variety to your playlist on your digital signage network. Mixing in this Smart Content™ on your digital signage will keep customers engaged and give them added value. Giving consumers up to the minute entertaining content is a great way to give your digital signage visual prominence. Contact us today to Rethink Digital® and get your digital signage connected with Sports Report content.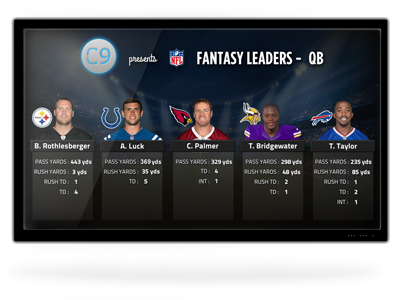 Related Creative Content –
Industry

Application

The digital signage industry is evolving the way we do business. It's changing how people order in restaurants, shop in retail and how people interact with everyday entertainment. Find your industry below to get an in depth look at cutting edge trends and how they can improve your business.