Class Schedule
Integration
Keep the community up to date with Class Schedule Integration. ClockNine's advanced digital content connects directly with your online schedule to stream live data to your digital displays. Show class times for today's schedule, tomorrows schedule and even display class instructors. Alert your guests with up to the minute schedule adjustments. This advanced technology is perfect for any fitness center or education facility. ClockNine Class Schedule Integration provides guests with truly informative content that they can depend on.
This advanced Smart Content™ keeps your screens full of fresh content with a totally hands-free experience; which allows you to continue to focus on running your business. Contact us today to Rethink Digital® and get your digital signage connected with Class Schedule Integration.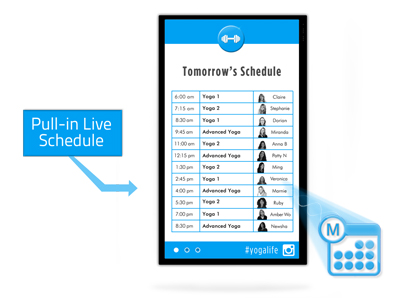 Related Creative Content –
Industry

Application

The digital signage industry is evolving the way we do business. It's changing how people order in restaurants, shop in retail and how people interact with everyday entertainment. Find your industry below to get an in depth look at cutting edge trends and how they can improve your business.